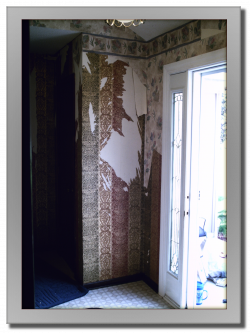 Wallpaper stripping & Interior house painting.

You have wallpaper that you hate. What do you do? You could try to tackle the monumental task yourself.. OR you could call us to handle this for you.

There is no one way to handle a nasty wallpaper issue. The one thing you can count on is the job being tougher than you can even imagine. Issues of multiple layers, layers that will not lift, or ripping the paper off the drywall underneath are just a FEW possible issues with

just

stripping the wallpaper alone.

TV shows and online DIY sites will make you feel really confident in tackling this home improvement project yourself. It is a can that has A LOT of worms and can quickly get out of hand. Don't chance it with marginal results. Give Atlas Coatings & Construction a call to get professional results without wasting your time and energy.

On wallpaper stripping & repaint jobs we charge by

time and material only

. It is important to note that there is

NO WAY TO KNOW

the extent of work that must be performed to get your walls / ceilings back to a sound surface for painting.

---

Wallpaper Removal & Interior House Painting
Olathe, Kansas (Johnson County).


Wallpaper Removal & Interior House Painting
Shawnee, Kansas (Johnson County).

What a great job they did for us! Our spare bedroom was covered in wallpaper that was on pretty good, but Nathan fixed it all up. Stripped it, patched it, primed it, and painted it. When my wife and I came home today to our newly painted room, we were shocked at how nice it looked! We were going to make it into an office, but since it looks so nice, we thought it would be better to show it off as our guest bedroom! Very responsible and trustworthy. Thanks for the great work! It was worth every penny.

J Eicholtz Olathe, KS.