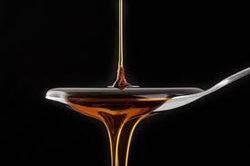 I never really knew much about syrup as a kid. All I knew was that I loved it on my pancakes and even dipping my sausage in it.. gave that fried pork meat a sweet coating that made it even better! I LOVE syrup who doesn't?!
It wasn't until I was stuck in bed with the flu last year, did I learn about the golden sweet liquid we traditionally put on or flap-jacks and French Toast known as Maple Syrup.
It was either the Discovery Channel, or Food Network that aired a show on Pure Maple Syrup.
All Maple Syrup is the same right? Wait.. what? MOST syrup on the market is actually a synthetic (man made) version of the "Pure Maple Syrup" that comes from the sap of maple trees. You remember as a kid, watching TV and seeing commercials where the old lady bottle at the breakfast table comes to life. She makes sure you are enjoying her syrup (which comes in a multitude of different flavors: BUTTER FLAVORED, CLASSIC, Reduced Fat..). The STAPLE to the American hot breakfast was not real.. that she has been pedaling a synthetic version of the REAL Maple Syrup the whole time and I was none the wiser.