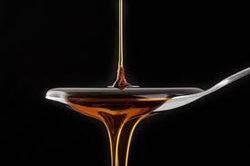 I never really knew much about syrup as a kid. All I knew was that I loved it on my pancakes and even dipping my sausage in it.. gave that fried pork meat a sweet coating that made it even better! I LOVE syrup who doesn't?!
It wasn't until I was stuck in bed with the flu last year, did I learn about the golden sweet liquid we traditionally put on or flap-jacks and French Toast known as Maple Syrup.
It was either the Discovery Channel, or Food Network that aired a show on Pure Maple Syrup.
All Maple Syrup is the same right? Wait.. what? MOST syrup on the market is actually a synthetic (man made) version of the "Pure Maple Syrup" that comes from the sap of maple trees. You remember as a kid, watching TV and seeing commercials where the old lady bottle at the breakfast table comes to life. She makes sure you are enjoying her syrup (which comes in a multitude of different flavors: BUTTER FLAVORED, CLASSIC, Reduced Fat..). The STAPLE to the American hot breakfast was not real.. that she has been pedaling a synthetic version of the REAL Maple Syrup the whole time and I was none the wiser.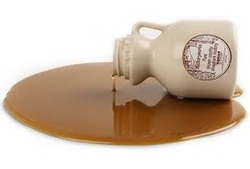 I was in the grocery store today, made me think of this topic. I took pictures to illustrate this story, but sadly my blackberry is not wanting to share the pics I took so please just visualize with me. Every time I have gone to the grocery store since seeing that show, I have wanted to find some REAL MAPLE SYRUP. The REAL DEAL... Vermont's Best.. What I found was much like what most homeowners/business owners find when they call a contracting company. Prices were all over the place. From the cheapest (what is actually in it?) of around $1.98 to $12.00 for a bottle.
My
attention was on the syrup section in the breakfast isle. It was a bigger section because this store is rather large. There were probably 60 different kinds of syrup there for my liking.
I first searched for the REAL syrup.
I tend to be a person who pays for quality. If there is a deal to be had.. sure great.. I saved some money.. I always tread cautiously because I am all too aware of "too good to be true".
If there is a deal and I get what I pay for, I am happy for that fact. I am the person who is known for spending more on a tool, or whatever it may be, to get quality, get what I want, AND what I paid for. Rarely do you ever get what you want from a "deal".. what is worse is putting up with something just because you got a deal on it.
Back to syrup. I noticed right away the difference between the REAL maple syrup and the synthetic syrups. The REAL syrups were asking more money for their product than their fake counterparts. They were in nicer GLASS bottles that had different shapes and finishes. Not the "fancy" PLASTIC bottles.
One was in the shape of a maple leaf.
One brand of PURE MAPLE SYRUP came in a bottle that looked like the honeypots you would picture a bear enjoying, sitting there on his rump. There he sits, jar between his legs, pawing at the naturally sweet golden brown liquid and licking it from his paws
. I checked the price. The maple leaf bottle was 10oz and marked with a price of $5.98.. it was on sale. The one that caught my eye was the honey-jar looking bottle that was 12oz and had a price of $12.00. I looked for the "old lady bottle".. you know which one I am talking about.. The old lady bottle was $2.98 for a 24oz bottle!
WOW what savings right?! Well I guess.. thing is.. when you buy this bottle, not only is it man made (FAKE) maple syrup.. it is filled with corn syrup, a bunch of artificial flavors and colors to make it look real, and even though on the outside and taste wise it seems the same.. the reality is it is not good for you in the long run. The REAL maple syrup was more expensive. Is it worth it?
Yes. Why you say? There are MUCH cheaper syrups out there!! Why pay that kind of price for syrup?!
There are a lot of reasons to go with the REAL syrup over the FAKE, that is besides the obvious. Decisions like these are the same decisions
a person faces when they search for a contractor. There are many many man MANY choices for contractors, just the same there are many different types, brands, and chemical compositions to "syrup". I say that and to me the fake syrup should not get the label "syrup", it should be given a name of "sugary breakfast topping" or something else. I laughed when I read one bottle that stated "PURE MAPLE SYRUP" (which most do say btw, even if they are man made). I turned the bottle around to reveal a column of ingredients. The bottle stated "CONTAINS NO CORN SYRUP".. yeah it doesn't contain corn syrup because it had brown rice sugar instead.. In comparison the REAL syrup had no ingredient list.. it was after all 100% REAL Maple Syrup.
What you have are a bunch of companies trying to be the better money option for the consumer. They are trying to beat out the "REAL MAPLE SYRUP" companies on price. For the price they are offering.. they cannot produce a genuine REAL product. The companies look and search and find ways to take a pretty straight forward design, the recipe good ole' mother nature gave us.. and produce the same results at a lesser price. What do you get for your money? You get alot of smoke and mirrors, promises, and in the end.. it is actually bad for your health to take the easier, more "cost effective" approach to covering your pancakes or other breakfast delicacy.
When you look at the quality, it is really a no brainer. You get what you pay for. There are many many options a person has when trying to figure out which company to do the work on their home or business. If a person is willing to skimp on quality for price, you will get what you pay for each and every time. Keep in mind that a job takes a certain amount of time and material to complete. If you are getting a "really good deal".. chances are the contractor has either figured out a way to skimp on quality or cut out parts of the job to make it appear you are getting what you paid for, without actually giving it to you. It is the maple syrup example all over again. The real price for the project that you have in your mind cannot simply be cheapened for you without taking something out of the equation. With the syrup companies.. they took the maple syrup out of the equation. What exactly is it you are buying if not REAL maple syrup? There has to be cuts to quality or material quality for a price to come down. There is no magic wand to turn a job into a half off, or 25% off job. In this instance you are asking for a contractor to work for free. Ask yourself if you would work for free.. especially on a job that is mental, physical, and a liability to the contractor should anything go wrong on the job..
Think about what you want out of your project. Patches never work, and when they fail it is usually majorly expensive and could have health related issues associated with it (black mold due to water leaks/damage). Decide not on price, but on what you are getting, and what you want to get out of the project. Mark my word, you will be rewarded with a better experience during the project, you will have a better product coming from a true craftsman, and you will get what you paid for in the end.