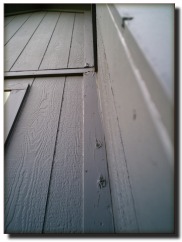 Catch the problems as they surface. Don't let the small issues around your home or office become serious problems. Make a list of the different "issues" your
building's exterior
has. BTW don't worry.. EVERY home has an issue here or there. Mother Nature is the it's harshest enemy, and she shows no mercy to your home or office's exterior. It is good to check your the exterior for damage once a month and after extreme storms.
Here are some simple things to look for while doing a routine examination of your home's exterior:
Check for loose or peeling paint.
Loose siding.
Nails "popping" out of the trim and siding,

Caulking is intact. (nail holes filed, seams in the exterior caulked)
Knots in wood loosing paint and swelling or cracking.
Any time you see something that should not be, write it down. It may be as little as:
Past paint job has a "missed" or "holiday" spot.
Rust from nail heads visible.
Scuffs from the riding lawnmower on the foundation.
With your attention to detail, these small issues won't turn into costly repairs that could spell REAL $$$$$ trouble in the future!
PLEASE CHECK OUT A FLICKr SLIDESHOW
we put together of a walk-around with a homeowner. We offer a service to come out and identify potential problems and photo document them if you choose to hold off on the work that needs to be completed.
Please stop by and check out my blog often. It is new and will feature different topics on feeding and caring for your home/office/industrial sites. I encourage you to leave me feedback and
contact
me if you have any questions or suggestions on future blogs. Or contact us if you have any questions on any service we provide / work that needs to be completed at your property. We would love to hear from you!
Nathan Deneault
Atlas Coatings & Construction
(913) 980-3823